Copper Litz wire
Litz wire is a special type of enamelled wire widely used for high frequency coils. It consists of a construction of single enamelled wires stranded together.

These wires increase the surface area of the conductor, thereby reducing the "skin effect" and associated power losses when used with high-frequency applications.

When the number of wires is high, the construction of litz wires can also consist of multi-litz wires, where a number of litz wires are stranded again. In this way, it is possible to have a litz wire of more than 1,000 individual wires.

Litz wire coils are used in the construction of colour monitor tube assemblies, high frequency transformers, electronic ballasts, switch mode transformers, induction cooking equipment, photocopy equipment and more.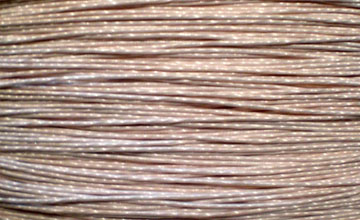 Constructions are varied as the applications are numerous, and can have from 2 to over 1000 wires in the build.

These products are further enhanced by covering in an overall layer of Silk, Rayon Nylon etc as the final application demands

Quotations are done on a request basis.

Hi-Wire is the largest stockist of industry standard Litz wires in the UK and it can utilize the Essex group's global manufacturing facilities to supply more bespoke wire products.

For more information please contact our Sales team:
Tel:

+44 (0)1977 522910


Email: hiwire.sales@spsx.com

MOTOR RUN CAPACITOR 8 MF 450V STUD & PLASTIC CAP

(Ref: MC1986)

£2.41
ULTIMEG 2000/372 RED 400 ML CAN AEROSOL

(Ref: VA2376)

£5.03
4.0 MM VARPREN 155 BLACK LEAD CABLE / 100MT

(Ref: KB3160)

£92.13
TB10 TERMINAL BLOCK WITH FITTINGS AND LINKS / 1EA

(Ref: MB2047)

£17.19