Motor Run Capacitors RP2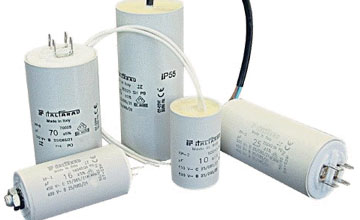 A range of 440v motor run capacitors, with potted lead or spade connectors.

For use in running single-phase asynchronous motors and in all general a.c. applications at 50/60Hz, a range of self-healing capacitors, manufactured using a self-extinguishing plastic case filled with resin. This range gives very good electrical reliability together with high mechanical resistance to shock and vibration.

All motor capacitors have VDE approvals in accordance with European Standard EN 60252.























































MOTOR RUN CAPACITOR 8 MF 450V STUD & PLASTIC CAP

(Ref: MC1986)

£2.41
ULTIMEG 2000/372 RED 400 ML CAN AEROSOL

(Ref: VA2376)

£5.03
4.0 MM VARPREN 155 BLACK LEAD CABLE / 100MT

(Ref: KB3160)

£92.13
TB10 TERMINAL BLOCK WITH FITTINGS AND LINKS / 1EA

(Ref: MB2047)

£17.19