KM Terminal Blocks and Links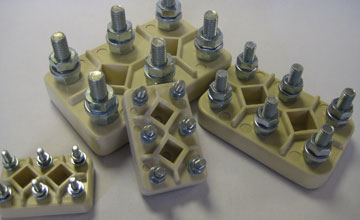 A robust,low cost,six stud terminal block designed for use on motors but equally suitable for many other applications.
Terminal studs are in steel and standard KM terminals are moulded in beige glass firbre reinforced polyester compound.
All terminals are supplied as bare studs with Nuts

Links are taken as a seperate item.











MOTOR RUN CAPACITOR 8 MF 450V STUD & PLASTIC CAP

(Ref: MC1986)

£2.41
ULTIMEG 2000/372 RED 400 ML CAN AEROSOL

(Ref: VA2376)

£5.03
4.0 MM VARPREN 155 BLACK LEAD CABLE / 100MT

(Ref: KB3160)

£92.13
TB10 TERMINAL BLOCK WITH FITTINGS AND LINKS / 1EA

(Ref: MB2047)

£17.19